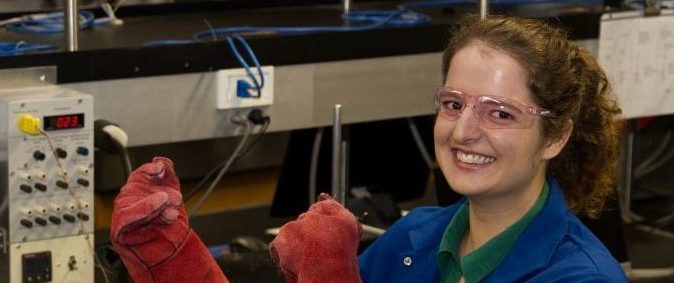 Combined B.S./M.S. Program
The Department of Materials Science and Engineering (MSE) at the University of California, Berkeley, offers a five year combined B.S./M.S. program to our undergraduate student cohort that can be completed at the student's pace.
The research project and some Master's course requirements are started while still in undergraduate standing.
The academic curriculum for the Master of Science is flexible and interdisciplinary, allowing students to tailor coursework and/or their independent project to individual interests and backgrounds. Areas of study/emphasis include the traditional materials science and engineering areas, as well as energy science and technology, nano-science and technology, engineering management and biomaterials.
Unit Requirements (minimum 24 units)
At least 12 units must be graduate units in major subject (200+ level)

Individual study or research

At least 1 unit/semester (2 units total)

No more than 2 units/semester (4 units total)

Remaining 12 units may be letter graded upper-division or graduate courses approve by major field advisor.

A grade of B or better in three of five core course categories (thermodynamics, structure or phase transformations, characterization, processing and properties) at the 200+ level

Minimum 3.0 GPA must be maintained

Each course may only satisfy one category

An independent project will be performed as part of a required two course sequence, MSE 296A&B, under the supervision of a faculty member. Students are encouraged to identify faculty supervisors as soon as possible, but no later than the beginning of the ninth semester. Students will be required to complete both a project report and an oral presentation.
Possible independent projects may include but are not limited to:
Traditional independent research project.

In-depth follow-up to MSE 199 or H194 project.

Product development with business plan.

Industry collaborative project.
NOTE: Only course units taken in the FINAL undergraduate semester that are not applied towards the Bachelor's degree may be petitioned to fulfill the Master's degree requirements. Students therefore have at most three consecutive semesters to fulfill all Master's requirements.
Academic record in good standing as an MSE major, MSE/ME, MSE/NE, MSE/BioE, MSE/ChemE, or MSE/EECS joint major. A cumulative GPA of 3.0 is required and a GPA of 3.3 or higher is recommended.

A well-written statement describing the reasons for pursuing a combined B.S./M.S. program. Students should address why the B.S./M.S. program is right for them and how it will help to satisfy their career goals.

If selected, a faculty interview in which the student's technical background and communication skills are assessed.

One letter of recommendation, from a faculty member or industrial supervisor who knows the applicant well and has seen evidence that he or she will benefit significantly from a program of this kind.

A non-binding "draft" course of study plan, indicating that the applicant has carefully considered areas of technical depth and breadth that he or she wishes to pursue if admitted to the program.

Recommended, but not required, is the identification of a project supervisor.

The admissions process will be as follows:
Online application must be submitted by December 1, 2021. Online application available at https://grad.berkeley.edu/admissions/apply/.

The Graduate Admissions and Fellowships committee will evaluate applicants on the basis of their application packets and faculty interview reports.

The Graduate Admissions and Fellowships committee will inform successful applicants in January that they are being recommended to the Graduate Division for admission.
Please upload the following to your online application:
a statement of purpose

a personal history stament is not required

transcript with grades through 2nd semester junior year (may be unofficial but the official version will be required when applying to Graduate Division)

one letter of recommendation (The recommender should be someone who can attest to the student's suitability for an accelerated MS program)
INCOMPLETE APPLICATIONS WILL NOT BE CONSIDERED.
*No GREs are required for this program.
Department offices are located in 210 Hearst Memorial Mining Building, in the Northeast corner of campus.
Address:
Department of Materials Science and Engineering
210 Hearst Memorial Mining Building
University of California
Berkeley, CA 94720-1760
Phone: (510) 642-3801
Fax: (510) 643-5792